Phone: (714) 546-3478 Fax: (714) 546-3106
Installation Video Demonstrations
Our demonstration videos are available in various languages. They demonstrate the ease of installation. For demonstration videos in languages other than English, click here to view them.
Installation Torque Recommendation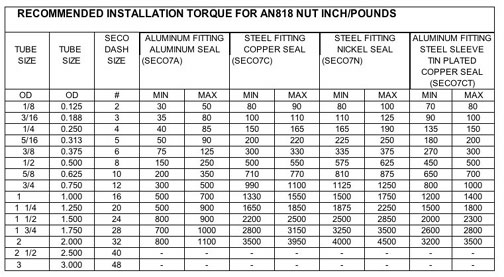 Click here for a downloadable PDF of the Recommended Installation Torque for AN818 Nut Inch/Pounds
SECO7
37 Degree Flared Tube Fitting Conical Seals. For use on connections from 1/16″ to 3″ Nominal Tube Diameter. SECO7 are made of Aluminum, Copper, Nickel and Stainless Steel.
Call or Fax us For Information
Phone: 714.546.3478
Fax: 714.546.3106
or