Phone: (714) 546-3478 Fax: (714) 546-3106
Out of Round Inspection
SECO7 conical seals are soft and malleable.  An out of round shape is not a reason for rejection of the seal.  These videos describe how to inspect and correct a SECO7 conical seal that has been bent during shipment, storage, etc.
SECO7 Out of Round Conical Seal Correction
SECO7 aus der runden konischen Dichtungskorrektur
SECO7 Correction circulaire hors cône
SECO7円形円錐形シール補正外 SECO 7 enkei ensuigata shīru hosei-gai
SECO7 fuori corsa di tenuta conica
SECO7圆锥形密封修正 SECO7 yuánzhuī xíng mìfēng xiūzhèng
SECO7 Correção do selo cônico fora da rodada
SECO7 Corrección del sello cónico redondeado
SECO7 من جولة المخروطية ختم الختم SECO7 min jawlat almakhrutiat khatam alkhtm
Quality Certification
Seco Seals Inc. is ISO 9001:2015 and AS9100D Certified
Click here to download a PDF of Seco's ISO 9001:2015 and AS9100D Certificate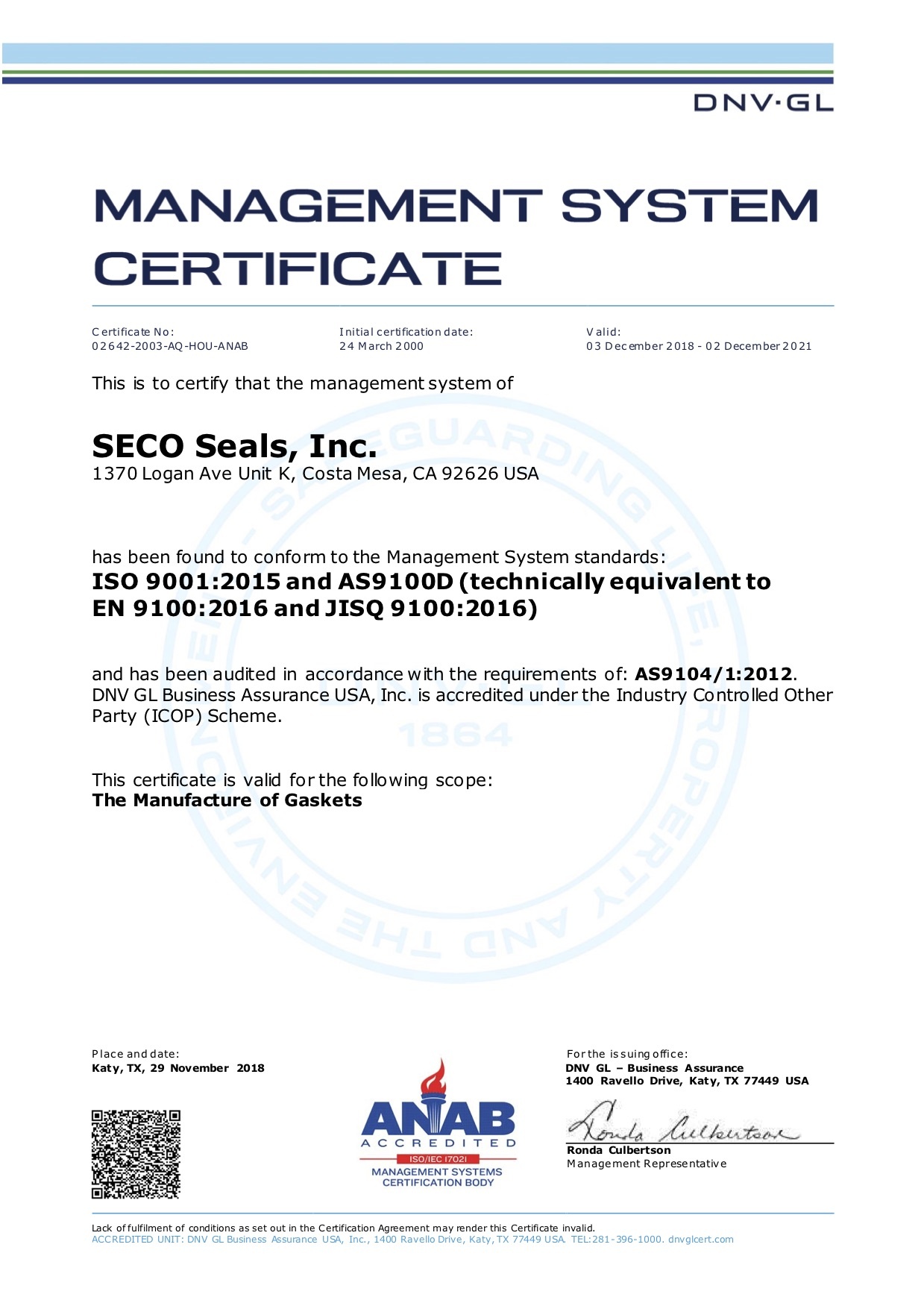 Document A-8.4.3-E
Seco Seals, Inc. Document, A-8.4.3-E, details the Purchase Order Terms and Conditions that conform to ISO 9001:2008 and AS9100C standards.
Click here to download a PDF copy of the
Purchase Order Terms and Conditions document, A-8.4.3-E
Call or Fax us For Information
Phone: 714.546.3478
Fax: 714.546.3106
or